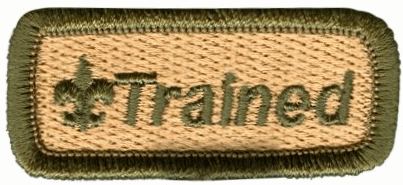 Adult Leader Training
The Moraine Trails Council requires that all adult leaders be trained for their registered position. Listed below are the training courses conducted by the Council.
You can find course descriptions, the current syllabus and training award requirements/progress cards along with information on STEM Mentors, Supplemental courses, National and Area courses on the BSA website.
Youth Protection, Joining and Orientation Courses, and the important Safety Courses are offered online. Login to MyScouting to take these course.
To determine which courses are required to be considered "Trained" refer to this sheet with requirements for all unit-level leaders. (Note: Scoutmasters also need Introduction to Outdoor Leader Training not listed on the sheet).
Don't see what you need? Submit a request and we'll help you get trained!
Basic Leader Requirements

Course Name
Code
Date
Online

---

Scoutmaster Position Specific Training

S24
Y
Request

---

Troop Committee Challenge

S10
Y
Request

---

Introduction to Outdoor Leader Skills (IOLS)

S11
Request

---

Venturing Advisor Position Specific Training

P21
Y
Request

---

Chartered Organization Representative Training

D72
Request

---

Crew Committee Challenge—
Crew Committee Position-Specific Training

WS12
Y
Request

---

Board of Review

Y

---

Cubmaster and Assistant Cubmaster
Position-Specific Training

C40
Y
Request

---

Den Leader Position-Specific Training

C42
Y
Request

---

Pack Committee Challenge—Pack Committee
Position-Specific Training

C60
Y
Request

---

Advisor & Associate Advisor

Y

---

Post/Club Committee Chair
& Committee Member

Y

---

Service Team Member

Y

Outdoor Skills Training Courses

Course Name

Code

Date

Online

---

Basic Adult Leader Outdoor Orientation (BALOO)

C32
Request

---

Train the Trainer Courses

Course Name
Code
Date

---

The Fundamentals of Training

D70
Request

---

The Trainer's EDGE

H96
Request

Supplemental Training

Course Name
Code
Date
Online

---

Merit Badge Counselor

S67
Y
Request

Advanced Training

Course Name
Code
Date
Online

---

Wood Badge

A90
Info

---

National Youth Leader Training (NYLT)

S78